John Freedman and Noah Birksted-Breen on Stanislavsky Electrotheatre
9 June 2020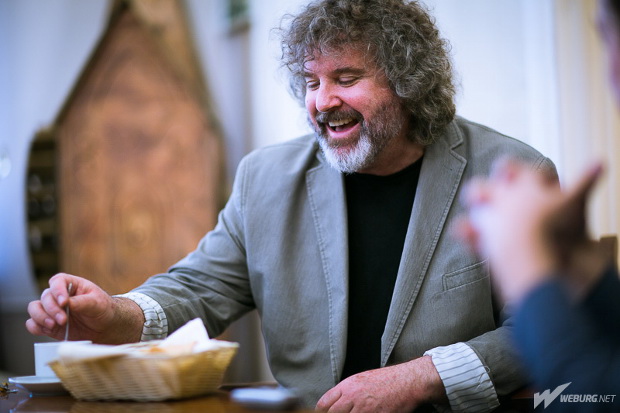 Critic, translator and Supervisor of English at the Stanislavsky Electrotheatre, John Freedman, in conversation with Noah Birksted-Breen (University of Oxford) on how the Stanislavsky Electrotheatre became one of the most influential theatres in Europe. Recorded 6 May 2020 for The Theatre Times International Online Theatre Festival.
(Theatre Times/ The Royal Central School of Speech and Drama)
Alma Prelec: Hi, everyone! Thank you so much for joining us for the 2020 International Online Theatre Festival hosted by the Theatre Times. My name is Alma Prelec. I'm one of the co-artistic directors of the festival and I want to say on behalf of the curatorial team that we hope that you and yours are staying safe and well, understanding, of course, that those are relative terms in these complicated times. It's been very moving to see over the past few weeks, as the festival has been live, that so many people are tuning in to watch what we've been screening from all over the world, as you're joining us today from different locations, I'm sure. One of the highlights of the 2020 festival program that we created was a collaboration with the Stanislavsky Electrotheatre, and this collaboration allowed us to screen five of their productions, three of which are still available online on the festival website. So do have a look at those if you can. This is for limited time only, so check them out while they're still available. Today we're going to have a discussion about the Stanislavsky Electrotheatre and, more broadly, about Russian drama over the course of the 20th century. And with us here, we have Noah Birksted-Breen. Hello, Noah!
Noah Birksted-Breen: Hi, there!
Alma Prelec: Noah is an academic translator, a theatre practitioner, a director based at the University of Oxford, and he'll be leading a Q&A with our special guest John Freedman. John has had a long-standing relationship with the Stanislavsky Electrotheatre, as we're going on to discuss today, and he's also a prolific writer and a critic and translator, has worked for 25 years as a theatre critic for The Moscow Times. So we' re absolutely thrilled to have both of them here with us today. If there is time at the end of this, we would hope to be able to open up the forum for questions. So, if you have anything that you would like to ask, please, send me a private message at the Theatre Times, and I'll add those to the list at the end. All right. Thank you very much! I'm going to say bye for now. Over to you, Noah!
Noah Birksted-Breen: Thanks very much! It's so nice to be talking to you again, John. We've met a number of times at theatre festivals, and it's lovely to keep up that dialogue in spite of all…
John Freedman: We've met in lots of different places, Noah. I think this is the first time we've done Zoom so…
Noah Birksted-Breen: I know! So nice to try something new.
John Freedman: Yeah!
Noah Birksted-Breen: I'm going to ask you lots of questions about the Electrotheatre, about the current artistic director, and make sure not to miss out and ask you about your role there.
John Freedman: Often when new artistic directors come into theatres with set companies, they come in and fire half of the company. Boris Yukhananov came in and told everybody that they all had jobs, no one was leaving, but there's going to be one hitch – they would not be performing live for two years. He sent everybody out on double vacations with double pay, and while everybody was gone over the summer of 2013, he quickly rebuilt all the rehearsal rooms and all the dressing rooms. So that when the actors returned in the fall of 2013, they came back to seven rehearsal rooms where they could work, and dressing rooms that were all beautifully redone. They had a place to rest, they had a canteen where they could eat, and they had rehearsal halls where they could rehearse, and Boris set everybody rehearsing. He brought in some of his friends from the Vasilyev school to start rehearsing. He brought in major European directors – Heiner Goebbels, Romeo Castellucci, Theodoros Terzopoulos from Greece, and they began rehearsing. So this place was not performing publicly yet, but it was an absolute beehive of activity.
Boris was planning to open in January 2015, and I went in around November or December of 2014, I went to the theatre still as The Moscow Times' theatre critic. I wanted to interview Boris because I wanted to run a piece before they opened, and then run a piece after they opened. It was that big of an event. That was true for several reasons, but I will come back to that. In any case, I was knocked out. I mean, he had completely torn everything out of the old theatre that was of no value – while every brick, every step on a stairwell that had any historical value had been rebuffed, reshined, all wonderfully illuminated. He completely gutted the stage and the hall and turned it into a transformer space – you can watch from one end, you can watch from the other, you can have seats along the walls, you can have seats at the ends, both ends, one end – you can do anything you want with this place now. And it was technologically extraordinary, I'm not going to start going into all of the equipment he brought in, all of the technological stuff, but it became a world-class theatre in a matter of a year and a half, maybe two years. This was all done together with a famous Russian architectural company called Wow House, and they did a spectacular job of remaking the theatre.
Now I want to go back to what it meant for Boris Yukhananov to come in, win a competition, and take over one of the central theatres in Moscow, right next to Pushkin Square, right in the middle of Moscow. Boris Yukhananov was a very hard guy to get hold of. For about 25 or 30 years he was an underground director who did his own thing in St. Petersburg or Moscow, or he might go to Riga and do a production, he did a couple of productions that got quite a bit of attention from critics based on Chekhov's The Cherry Orchard, we call it The Garden rather than The Orchard because the point of the Garden of Eden was very important to this production. He did it in several so-called regenerations – once every two or three years he would regenerate the show and play it a couple of times. But I mean, these were not shows that were in rep, these were not shows you could go and see every day, like you can go and see Lev Dodin's stuff, Kama Ginkas' stuff, Konstantin Raikin's. You might ask, "is Yukhananov playing?" The answer would probably be, "I don't know, it's been a couple of months, I don't know if he's doing anything. He's always doing something, but I don't know what he's doing now." Yukhananov had lived his extremely fruitful and important life in art out of the eye of the mainstream, he was very much underground. So when this guy from the underground was handed one of the major playhouses in Moscow, it was, as I said, an astonishing thing.
Boris did not remake this theatre in his own image, because if he'd remade it in his own image he would have turned it into an incredibly hot but underground, unusual, strange theatre that would have bucked the mainstream. I've always loved talking to Boris, he's one of the smartest people I've ever met. He is an extremely entertaining interlocutor. And he used to tell me about a project he wanted to do someday called "terrorist theatre" in which he and a bunch of his actors would run into some theatre, the Moscow Art Theatre, let's say, and they would run up on stage in the middle of some boring Moscow Art Theatre show and they would start doing something for three or four minutes before anybody could figure it out. And then they would run out of the theatre before anybody could arrest them or grab them, and they would have brought life into the Moscow Art Theatre. The audience would be buzzing, the actors on stage would be angry and buzzing, and everybody would be buzzing. Life would have happened in the Moscow Art theatre thanks to this "terrorist theatre" that Yukhananov used to think about. He never did it, he didn't have to. It was enough for him to talk about something like that to make his point. But I think it's important to bring up the fact that this very unusual, very powerful artist was from that part of the creative spectrum, way outside the mainstream, and now he runs this theatre with a hundred actors, you know, a huge team. He's running a typical, normal theatre, although he immediately set out about doing it differently. Romeo Castellucci directed and opened a show even before the theatre officially opened. Then the theatre opened officially with a production by Theodoros Terzopoulos. Within a few months, they had another show, Goebbels` Max Black, or, 62 Ways of Supporting the Head with a Hand, up and running. I want to point out another thing that's really important to understand about Russian theatre and why what Boris did is unusual and important.
Everybody knows that Russian theatres are run by despotic directors – that's the tradition. Everybody knows Russian directors are jealous as hell of other directors. I remember talking once to Roman Kozak, another Moscow director. When he had just begun running the Pushkin Theatre, he was talking about letting Declan Donnellan come in and do something on his stage. I said: "Wow, Roma! That's a great idea!" And he says: "Do you think so?" And I said: "Of course, it's a great idea!" I said, "Everything Donnellan brings to the theatre accrues to you. You're the guy that invited him. You're the guy who runs the theatre. All of his success accrues to you! And if it's not a success, you didn't do it. It's wonderful!" And he goes: "I don't know, I don't know." He did end up inviting Donnellan and it worked very well. But the point is that Russian directors are not good at bringing other directors into their space. Boris Yukhananov started up his theatre a whole other way. He opened it with productions by a guy from Greece, by a guy from Italy, and by a guy from Germany, and it was an incredible statement.
I will wrap this monologue up here in a minute, but I want to address your point about politics at the time. This indeed was a period when Russia was beginning to close down again. I mean we've now reached 2020 and you know Russia is almost under lock and key. The difficulties there are enormous. But this was just beginning when Putin returned as president for the third time in 2012. You would hear questions like, "Oh, do we really need Europe?" or you would hear the lovely phrase that Russian idiots love to use: "Gayropa." As in, "We don't need Gayropa!" and that kind of thing. At that time Boris came in and opened the Electrotheatre by saying, "You know what? I've got a guy from Italy, I've got a guy from Greece, and I've got a guy from Germany. I'm part of the world. The world is part of us. We're all together, and right here and right now, we're going to work together." It was an amazing thing actually. Within nine months of that time I left my job at The Moscow Times where I had worked for 25 years, and I went to work with Boris.
Noah Birksted-Breen: Amazing! Thank you! So you've brought up the theme of the vision he brought to the theatre, and one of the two things was this notion of being a European theatre, as you've already spoken about. The other thing was, he talked about going back to the spirit of the original theatre under Stanislavsky and his Opera and Drama studio, breaking down a notion that opera and drama are separate genres, and looking at them as something which enrich each other and can be fused together. Perhaps you could say something about that… And could you tell us why it matters on the Russian theatre landscape? Are there other theatres doing this or is this quite unique the way it's happening?
John Freedman: It's an interesting historical thing that Stanislavsky worked at this actual plant where the Stanislavsky Electrotheatre is now located. He ran his Opera and Drama Studio here for a short while, not long, but he was there, historically speaking. It's one of the reasons why the theatre was called the Stanislavsky Drama Theatre in the past. It's why Boris kept "Stanislavsky" in the name of the theatre when he took it over, calling it the Stanislavsky Electrotheatre. I'll briefly explain the two main reasons for the theatre's name. First of all, the Electrotheatre sounds pretty cool, it sounds like a place that's quite electric. But historically speaking, that's what movie theatres were called in Russia when they first came out in the second decade of the 20th century, they were called "electro-theatres," and the Ars electro-theatre, the Ars movie-house, was located in this place. So this was a case of going back to the original name of the electro-theatre, as well as the idea of electrifying Moscow theatre. But the notion of carrying on something that Stanislavsky originally wanted to do – to bring drama and opera together – also turned out to be an extremely important aspect in the work at the Electrotheatre.
In fact, I have some impressive figures here. The most important one is the 13 contemporary operas that the Stanislavsky Electrotheatre has commissioned and staged. Let me put that in context. In the first five years of the theatre's existence, from January 2015 to January 2020, the Electrotheatre produced 57 new productions. We have had several more since January, but I'm just taking the numbers from those five years. There were 20 debuts. That is another astonishing thing, young directors getting the opportunity to work in Russian theatre. Everybody knows that climbing that hill in Russia is extremely difficult. Directors end up being called "young," "new" directors until they are 40 or 45 because they might get one or two chances to work, but often not more than that. Boris built a new small stage, and he turned it over to his students. They have been producing debuts and new shows, and second shows, then third shows there ever since.
Another thing he did is...and this takes us back in history... I've never heard anybody talk about this but, to me, it's very important. In my own prior life as a scholar, I wrote about Meyerhold and the people who worked with him. And one of the things that Meyerhold did after the Revolution, in the early 'twenties, is that he included educational programs along with everything he did. He had lectures and speeches, classes and everything. Well, Yukhananov hired one of the best contemporary critics, Kristina Matvienko, and he asked her to put together something that in the beginning was called the Electrozone but most often is now called the School of Contemporary Spectators and Listeners. Go to the theatre website and look at the events that go on at the theatre virtually every day of the week, every week of the month, every month of the season; there is an astonishing amount of activity going on with scholars lecturing, actors doing masterclasses, historians digging up stuff and bringing in new information, authors coming in and presenting their books, actors doing poetry readings or singing. There have been something like three to four hundred of these events in the five years that the theatre has existed. They take place in the foyer, sometimes on the small stage, sometimes on the big stage, sometimes in the coat-check area, sometimes on the stairwell... Every corner of the venue has been turned into a place for human beings and theatre, for ideas, for thought, knowledge, and art. It's a pretty amazing place to walk around when all this stuff is going on. There's a rehearsal in one hall and a rehearsal in another, and there is a conference going on one level, and there's a talk about a new book up in the foyer. It's pretty amazing! So, that's the context for all of the stuff that is going on aside from the productions being staged, including the 13 contemporary operas that have been commissioned from living composers. And when I say they're living, I mean all of these guys are younger than you and I are. They're brand-new babies coming up and they're having stuff commissioned, they're getting their works produced, they're winning awards in Europe.
The Electrotheatre's work with contemporary opera has yet to be appreciated fully. I have a feeling that down the road, whether it's 10 years or 30 years, if we're lucky to make it that far, when people look back, this will be seen as an extraordinary effort on the part of a Russian theatre to mix and change genres. The Bolshoi doesn't commission 13 contemporary operas from contemporary writers in a five-year period. If they do one in a five or 10-year period that's doing pretty good, and for the most part when they or the Nemirovich-Danchenko Musical theatre do it, they will commission from a well-known composer about whom everybody says, "Yes, yes, that person definitely deserves to have his new opera produced somewhere." The Stanislavsky Electrotheatre goes out and finds young composers that are writing things no one else does. They say, "Here's a stage, go to work, bring us some new work." This all is done under the tutelage of Dmitri Kourliandski. In my opinion this guy is one of the great men of contemporary Russian theatre. He is the theatre's musical director, he's a major composer himself, and he's the one who is in charge of finding these composers, encouraging them, getting them to do new work. A couple of his operas have been staged at the Electrotheatre, but his job is not to sit tight and think, "Oh, now I get to do all of the operas I've always wanted because I have a place I can do it". That's not what he's done at all. He's taking part but he's basically opening his arms wide open, flinging the doors of the theatre open, and saying, "We're gonna do this new thing."
When theatre began in ancient times, theatre and music were together, then they went different ways, then they came back together again as history moved on. Then there's this lively little moment in the 1930s where you have Stanislavsky in this very building working with an opera and drama studio. And now it's come to this moment in historical time, in 2020, where this incredible drama theatre is doing spectacular opera work as well. It is not Verdi, it is not the operas you think of when you hear the word opera. This is not what you're used to, this is not La Scala. This is contemporary opera, it is very different: there's a lot of dramatic theatre in it, there's a lot of installation in it. In fact, one of the operas that was composed by Dmitri Kourliandski, and directed by Boris Yukhananov, is being show in this festival. It's called Octavia. Trepanation, and it is part installation, part fashion show, part opera, part drama, part historical. It's fabulous stuff, very unusual. So, this is really one of the most important parts of the theatre – its work with contemporary opera.
Noah Birksted-Breen: Thank you, that's fantastic. I was wondering, this question is a little bit more for those without specialist knowledge but I think it's still really of interest to scholars of Russian theatre too. Just think about cultural differences and what a director stands for in Russia. You know perhaps, there's a dominant sense in Britain of the director as interpreter, still completely creative, but someone who interprets a text. And in Russia generally, and in particular top directors, tend to think of themselves as pedagogues as well as philosophers, perhaps, poets sometimes as well, and authors. I mean, you can go onto Youtube and find a few interviews with Boris Yukhananov. You'll find some fascinating things like in one video where he constructively berates a young, I think it was, film director, warning him away from television by saying, "That's Satan." He talks about the director as one who finds the inner poetic life of people. Can you speak broadly about Russian directors but, of course, about Boris as well? How does he see himself as a director and what does it mean to him to be a theatre director in Russia?
John Freedman: I think it's important to say right off that when Boris took this job, he immediately announced that this theatre would be a director's theatre. It was very important for him and, in fact, it creates problems for me as a translator of everything that is produced. I translate all the text that is produced in the theatre at one point or another. And it creates problems because the tradition in the U.S. is to say Anton Chekhov's The Cherry Orchard as directed by, you know, Joe Blow. Whereas in our theatre we write Joe Blow's The Cherry Orchard, as staged according to a text by Anton Chekhov. The attitude immediately in this theatre is director-centric. Russian theatre in general is director-centric. A few minutes ago you did a good job of laying that out, and if you go back in history and you know Stanislavsky, I don't have to say anything more. Meyerhold, I don't have to say anything more. Yury Lyubimov, I don't have to say anything more. Those are names of great Russian directors who have changed the course of world theatre, of which they were a part. And Boris Yukhananov as a student of Anatoly Vasilyev and another great Russian director of the time, Anatoly Efros. He is very much in the tradition of "a strong Russian director," as you said, a philosopher, as the one who searches for the human soul in the actor and in the character. So, yes, that sounds very much like Yukhananov to me.
His is always a theatre that corresponds to the vision of the director. I'm talking about the Stanislavsky Electrotheatre now, but I could also actually be talking about Russian theatre in general. There have been a few theatres here and there, most of them recently, that take a different approach. Probably the most famous of them was Theatre Doc, which was a theatre for writers. But even there, when you go back over the best productions that were done at Doc, those were still Russians staging those shows and they exhibited very strong directorial viewpoints. Mikhail Ugarov was a writer and he proclaimed Doc a writer's theatre. His productions were very strong in terms of the direction. I could go on and on but that's getting off topic. I just want to point out that even a self-proclaimed writers' theatre recently in Russia also had very strong directorial work. That is the system, that is the tradition.
A tiny little story: I remember sitting in the Theatre Union in the early 1990s and everybody hated everything at the time. Everybody said everything was bad. There was nothing good and there were no writers, no new directors, and everything was dead and awful. I was just a bright-eyed kid from the United States sitting there in the luxury of this incredible theatre all around me with good writers, great directors, and wonderful actors. And I said to a woman who was telling me how terrible everything was, I said, "You know I don't agree with that. I think there's quite a few interesting directors working now." And before I could start naming anybody, she says "Oh, there are no directors. We Russians expect Meyerhold every time we go to the theatre."
There is something to that, they do expect Meyerhold every time they go to the theatre, or many of them do anyway. Maybe things are changing a little, but I don't think that much. In terms of an anecdote, I think that's still a useful story. It still gives the temperature of the place. Here is this woman who had never seen a Meyerhold production, she wasn't old enough, but she sat there telling me, "There are no good directors! We expect Meyerhold every time we go to the theatre."
So, Boris is very much in that tradition: he's a strong director with a very strong vision of what he wants to do, and one of the things I think is so fascinating about him is that he's always been like this. This is the one thing that he's carried over into his new life, as the head of a popular, important, mainstream, yet cutting-edge theatre, is that he loves "big." He once did a video film called The Mad Prince in 1000 cassettes! He often does shows that run two, three, four days. Several of his shows — The Blue Bird based on Maeterlinck and recent Russian and Soviet history, runs three days; Drillalians, which is one of the operas, is a spectacular 5-day piece written by six different composers that runs over five days. Many of his shows run two or three days. He loves big. He has a knack for pulling off incredibly big things. And it's not just a matter of size. I don't know any other director in the world that has the sense of scope, the sense of hugeness that he brings to his work. And only a director, I mean, only a strong director can do something like that. You know, this isn't just playing around with actors, improvisations, or something. You've got to have a vision to come in and say, "I'm gonna do a five-day show of six operas or a three-day show turning a children's play, Maeterlinck's The Blue Bird, into a three-day explication of Soviet history and the life of the two main actors in the theatre." It's a beautiful combination of children's theatre and a very difficult historical work.
I don't know how clearly I answered your question about directors in the Russian tradition but, yes, the Russian tradition is… let me just go back to this. I often talk to Americans who are horrified to hear that Russians don't allow the writer in the rehearsal hall when they are staging a new play. And if there's any Americans listening right now they're probably grabbing their hair. But not only do Russian directors not let writers into the hall, they tell them to keep their asses away, saying, "Wait until the premiere! You have nothing to do here until I open my show," because the show is the director's in Russia. That can be argued until we're blue in the face but that's the way it is.
Noah Birksted-Breen: Okay, I wish I could talk about it all day with you, and I have lots of questions, but I want to give a chance to other people. We have some questions. We still have 15 minutes. I think what I will do is just mention that you have written a brilliant article which addresses other subjects that we won't necessarily get onto right now. It is called "Boris Yukhananov in Space and Time." You can Google it and find it in The Scenographer journal from 2019. Maybe, when you're answering these questions I can pop it on to the group chat to everyone. So in case anyone wants to follow up on it they can take that search term and just put it in Google and read your article and they'll find much more information about specific productions and more about what you spoke about here. So I don't have to feel worried that I didn't mention certain things or ask you to mention certain things. So we can give the users a chance to have their questions asked. What I'll do is I'll ask you three in one go and then you can sort of address those in the time we've got. The first one is, "Does Putin watch the Stanislavsky Electrotheatre?
John Freedman: No.
Noah Birksted-Breen: (laughs) Okay, all right, That's was an interesting question. Actually, I have to stop myself on this topic. The former director of the Moscow Art Theatre once said "I am a civil servant." He said it tongue-in-cheek but, of course, as you said, directors are appointed by the government. So this is an interesting question about how an artistic director finds freedom from the authorities. Second question is, "What is the filming process? They are beautifully shot!" And the third question, "What is the Electrotheatre's relationship to other major theatres of Moscow, Moscow Arts, Gogol-Center, School of Dramatic Arts, etc.?"
John Freedman: Does Putin watch the Electrotheatre? I doubt it very seriously. In the 25 years that I covered Russian theatre I saw Putin in theatres twice. One was at the Sovremennik, and I think the other was at Konstantin Raikin`s Satirikon. He showed up for Raikin`s 60th birthday party, and the other one was for an anniversary of Galina Volchek who was the artistic director of the Sovremennik theatre. So Putin tends to show up at the theatre when there's, you know, somebody to be honored. I don't think that's going to happen in the near future at the Electrotheatre. Let me veer off into your question about Oleg Tabakov saying "I am a civil servant". Boris Yukhananov is the kind of guy that, whatever I might say, would immediately do the opposite if he were suddenly to show up. So I don't want to try to speak for Boris. But I want to try to answer your question in terms of Yukhananov. I don't think he sees himself as a civil servant at all. Yukhananov sees himself strictly and first and foremost as an artist, as someone who has been given the responsibility and the privilege of advancing one of the great theatres of the world (meaning Russian theatre in general). Boris tends to be very bored by, and skeptical of, politics. Many of his productions are filled with very cunning political commentary. So you don't want to draw any simple conclusions based on what I'm saying. But if you were to read an interview with Boris or if you were to talk to him, he might dismiss politics in theatre. He might say, "that's not of any interest." I would say, watch his shows and then draw your conclusions. So that's a brief answer, seeing is how we're running out of time.
As for the filming process… I'm really happy that question was asked because that's one of the other incredible things that is done at the Electrotheatre. All of Yukhananov`s productions are filmed with six cameras at the final dress rehearsal before the opening. They are all done by six professional cameraman. There are directors there and everybody running around making sure the cameras are in the right place getting the right shots. And so the show has not yet opened but the material is already on its way down to our basement film studio to be cut and edited. The text then comes to me and I do the English subtitles. So the show is barely opening and we're already getting very close to having a complete film of it. It will still take another month or two to finish up. If it's a 33-part production like Orphic Games it will take somewhat longer. Orphic Games was a six-day, 33-part production, a monstrous show that took me a long time, I must say, to translate. But the filming is very important to the theatre, it's very important to Boris.
Boris has always filmed all of his work. He has been a film director throughout his career, not only a theatre director. He was one of the founders of what is called parallel cinema in the late 1980s, which was a kind of a response to official Soviet film. It was all experimental, avant-garde, whatever you want to call it, "underground," film. So, yes, the filming process is very important to us, and the whole team does a really good job.
Now, what is the relation to a few theatres that were named? I don't think there's… of course, there's a relationship between the theatre and all other theatres. As there is, you know, between me and the store right outside my window, or between fish swimming around the sea in their own schools – they're all in the same sea and they're all sort of in the same place but they're taking care of their own business. I think that's true of Gogol-Center. When Serebryannikov was in trouble, Yukhananov was one of the first people to speak out against it. The Electrotheatre held events bringing attention to the fact that Serebryannikov was in trouble. Serebrennikov's films were screened at our theatre to bring attention to what was going on. There is, of course, a connection to the School of Dramatic Art because that's where Boris studied under Vasilyev, and Boris worked there for many years until he got the position at the Electrotheatre. A couple of actors from the School of Dramatic Art came over and now work at the Electrotheatre, but there aren't any joint productions between the two venues. As for the Theatre of Nations, another cutting-edge theatre in Moscow… We know what they're doing, they know what we're doing. You know it's kind of like you walking by each other on the square and you say, "Hey, how you doing today, guys? Everything good? Good to hear it. Good luck! Keep it up!" – and you go on your way and you do your own thing. That's the way I would characterize it. Somebody else might characterize it differently but that's how I see it.
Noah Birksted-Breen: Thank you. We have just a couple more minutes for two final questions, one from an audience member and one from me before I hand it back to Alma. The question from our viewer is what financial support does the theatre get today from the state, from the city, from private sponsors? And, it's a brief one from me, but just to acknowledge, obviously, the times we live in with Covid-19. What problems does the theatre face now? Are they still rehearsing productions to be prepared when the lockdown ends? Are they temporarily on pause? Maybe a word about how theatres are effected?
John Freedman: Right. The financial support of the theatre… The theatre is fortunate because Boris Yukhananov, in addition to being a somewhat obscure underground artist, has always had a very good business sense. He has always had connections with people or producers who have access to funding. A sponsor put up money to redo the theatre in 2013. That sponsor continues to fund the theatre and support its productions. It pays for very expensive productions; the costumes alone in Yukhananov's productions are outrageously expensive. These are all paid for by the sponsor. The city continues to pay what the city usually pays for most Moscow theatres. It gives them a little money for production, but that doesn't go far. It pays for the bookkeeper, the electricity, the water, it pays for those kinds of utilities. Naturally, the theatre attempts to earn money through ticket sales but it's very hard to make money in Russia on tickets. Theatre has always been perceived in Russia as a people's art. It is expected that little old ladies and even little old men should have the ability and the right to see theatre no matter what it is. They really try to keep ticket prices down, so they don't make much off of that. The theatre primarily lives off a combination of a very generous sponsor and the sponsorship of the city which sponsors it to the extent that it sponsors every other Moscow theatre.
As far as your question about Covid 19 and what the theatre is doing… Right now the theatre is closed, like all theatres in Moscow. It can't perform. I don't know when they're going to open back up. I know some areas in Moscow life are supposed to reopen around the 15th of May, but I doubt that theatres will reopen. I can't believe it would happen until the fall. After all, we're now coming up on the end of the of the current season. Moscow theatre season runs from September to June or July. So my guess is that we'll see nothing more until at least the fall. I know there are rehearsals going on mostly by Skype and Zoom. Boris taped a statement for the Theatre Times in which he talked about some of the plays that they're rehearsing right now, numerous plays about Covid 19. This sounds very much unlike a Boris Yukhananov idea. Boris doesn't do headline theatre, but obviously even he feels that in this situation there is something of value in this topic. And even if the results aren't anything great, it's important to just do something like this right now. But I wouldn't expect much from the Electrotheatre, or from any other Moscow theatre, until the fall.
Noah Birksted-Breen: Thanks so much, John. This has been absolutely fascinating. I will hand it back down, but thank you I've enjoyed our conversation so much. Thank you again.
Alma Prelec: Well, thank you so much both of you for this absolutely fascinating discussion. I think you've given us not only an incredible overview but also a very personal view from within, which is very difficult to get, other than in this kind of conversation. Thank you for making it work, Noah. And thank you everyone for watching and for your questions which have been coming in throughout the hour. And, like John, I'm very pleased we had this is query about the filming because, of course, one of the things we had to keep in mind, when we were looking at what we might screen for the festival, was how well it translates. It's not a question of quality. It's whether the camera is able to capture the spirit of the production in question and I think for those of you who've already seen, or for those of you who haven't yet, please, do watch, because the quality of the images is just stunning and incredibly cinematic in a sense, so…
John Freedman: They are. I'm not going to take any more of your time except to say I continuously see people on Facebook and Twitter saying, "I'm so sick of theatre online, I'm so sick of theatre on film." To them I would say have a look at the Stanislavsky Electrotheatre work, because you will see something very different. Indeed the theatre does this very well. All applause to all of the folks who make the films at the Electrotheatre.
Alma Prelec: Absolutely. Don't take our word for it just because you can. There are still a few more days left to watch these online. So Noah, John, thank you very much and thank you everyone for joining us today
John Freedman: Thanks for having me.