Photohistory : The Observer
8 May 2020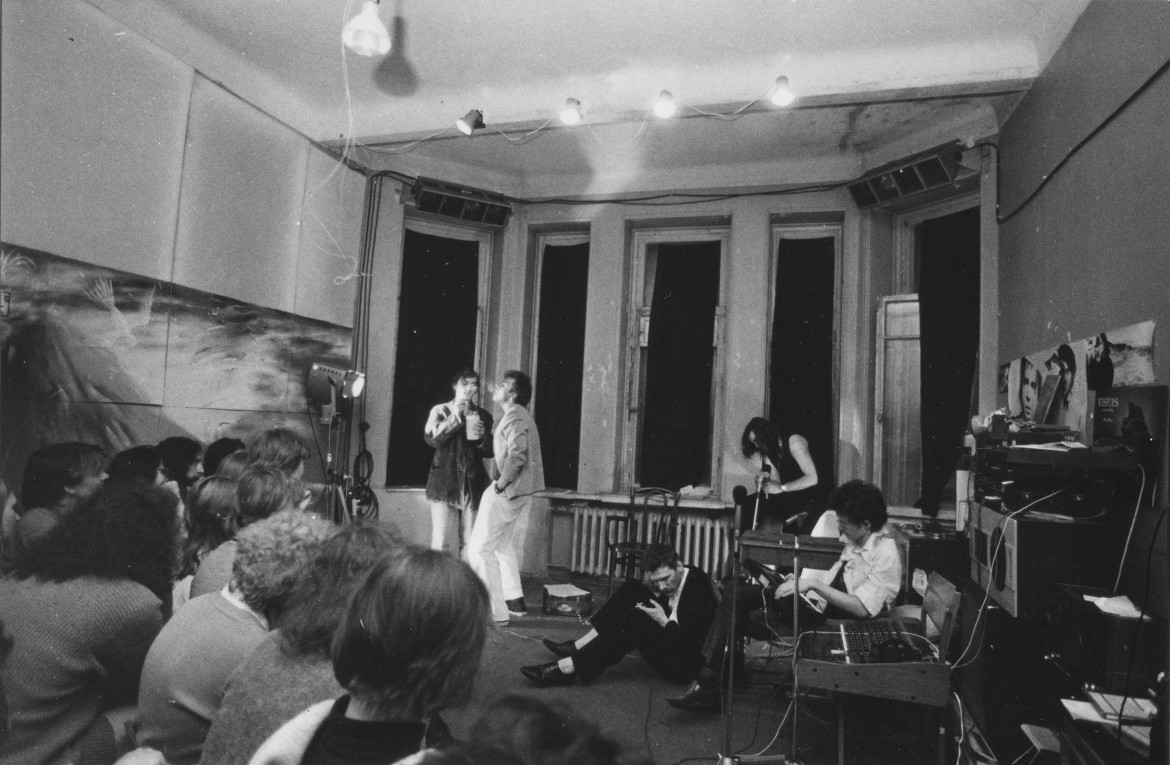 A performance of The Observer will be shown May 13 within the framework of the "Boris Yukhananov's Cinema: We Look at the Past as if it Were the Present" festival. Today our Photohistory rubric is dedicated to it.
This photo was taken by Andrei Bezukladnikov in 1988. The photo may seem to represent one of the typical apartment performances that were so popular at that time in artistic circles. But the people in this photo are not really musicians. At least, not all of them are. (No, we don't mean the portraits of U2, Peter Gabriel and Brian Ferry on the wall on the right). Sitting in the foreground is Andrzej Zakharishchev von Brausch from the group Obermaneken. The rest of the project participants had no choice but to become part of a group for the time of production's run. In staging the play The Observer by Alexei Shipenko, Boris Yukhananov decided that this tragic tale of the experiences and doubts of a rock musician required the participation of a rock band. As such, the group Solar System was created within the performance, while the real group Obermaneken performed their own songs in The Observer. The pre-premiere shows were held in Apartment No. 4 of the School of Dramatic Art (on Povarskaya Street). The Observer was performed in 1988 at the Berliner Festspiele.
"In the sphere of youth culture, rock music, rather like Atlantis, lifted everything on its shoulders, and created a new faith, after which Soviet rock stars came into being. The play is a romance tale about the fate of Russia's first rockers, an encyclopedic collection of songs, more than 30 of them. The performers included Boris Grebenshchikov, Rossiyane, Zoopark, the Valery Chkalov Squad, Kino, and others. But this is not a musical, it is a dramatic performance woven from dreams, reality, memories, and thoughts." (From an interview with Boris Yukhananov, June 1988)
Another musician tangentially related to The Observer was Alexander Bashlachyov. A large interview that Boris Yukhananov recorded with him was preserved. The text and the audio of it was supposed to have been included in the performance.
A new publication recently appeared in our archive: an interview with Lev Naumov and Boris Yukhananov, in which the director talks about his meetings with Alexander Bashlachyov, and about his work on
The Observer
.
Text in Russian
We also recommend the film Theatre Theatre (1989), which shows the filming of The Observer in Berlin.
The full schedule of May showings can be accessed
here
.