The Stanislavsky Electrotheatre announces its plans for the 2018/2019 season
5 September 2018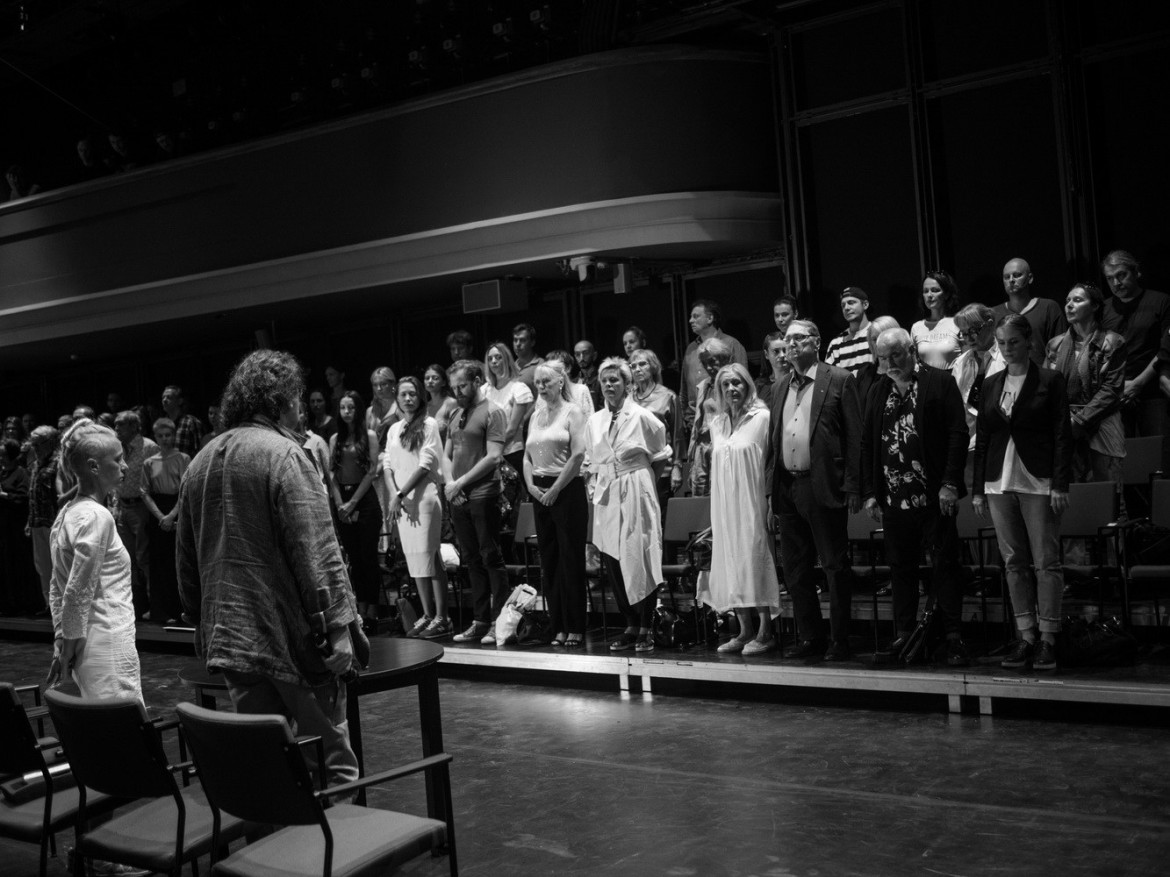 The season opened September 4, 2018, with a general company meeting, at which Artistic Director Boris Yukhananov spoke about upcoming premieres:
Dear friends, I want to say I am extremely happy to see you all on this beautiful day. I find it interesting to work with every person in our theatre.
When this hall was being rebuilt, I went out onto the balcony and followed the various stages of construction. I saw how our ship came together, from skeleton to flesh.
Theatres today are ships that navigate the open sea, and by "the sea" I mean the times in which we live. These times, as you know, are very complex. I believe our national theater has never experienced such storms, such tempests and such incredible paradoxes.
I want to start our meeting with two highly important topics that are both simple and obvious.
First, I would ask you to support me: I believe we must show solidarity with those today who are suffering and are sitting today, waiting for judgment, or who, in despair, are ready to sacrifice their lives on the altar of this tragic era.
Second: the main message of my attitude to this period in time, regardless of all its tempests, is the mercy that lives in my soul, without which our era will turn into an inhuman disaster.
The last thing I wish to say in the preamble to our meeting and substantive dialogue is this: Many fabulous theatre people have left us this year. The fear is that all this may drag out over time. We may soon find ourselves swimming in a sea full of funerals and suffering individuals.
I would ask you to observe a minute of silence in memory of those who left us this year.
… Thank you.
This is the climate and the sociocultural condition in which we continue to work. We must work, and we will do so, no matter what.
Now I would like to reveal our plans.
Over the previous three seasons, the Electrotheatre has produced over 50 premieres on the Main stage, the Small stage, in the foyer, on the stairs, in the coat check area, and in the Theatre Yard. In all those places we have continued to advance our most important trends: music, drama and new-processualism. We also continue to experiment with new forms that emerge from contemporary art and interdisciplinarity.
In October, for the second time, the Electrotheatre will perform its latest premiere, Orphic Games. Punk-macrame. Created by Boris Yuhananov and a group of over 100 young directors, it consists of 33 acts and plays over a six-day period, with day and evening performances. The creators liken the production's 33 parts to the frescoes painted on the walls of a museum, you can watch them in any order, in any quantity that you choose. The October performances (October 16-21) are entries in the Territory Festival.
The presentation of Faust, a book documenting Boris Yukhananov's creative work in the underground sphere of the late Soviet period, will be held October 2 and 3 as an event of the Archiving the Future project. It was published in the Stanislavsky Electrotheatre's Theatre and its Diary project.
On October 10 we host the presentation of I am a Mistake, the first book in Russian by Belgian director Jan Fabre, published by the Electrotheatre and illustrated with the author's own drawings. This same day there will also be a staged reading of Fabre's texts prepared by director Klim Kozinsky. The presentation is an entry in the Territory Festival.
The first premiere of the season will be Alexander Chernyshkov's The Transcription of Error, an international experimental musical project (musical theatre for seven people), in which music meets drama and performance. Seven artists from six different countries and completely different performance backgrounds come together on stage, creating situations that exceed common logic. The boundaries between an actor, a musician, a performer, a singer, or an improviser are erased, leaving just individuals who perform as themselves. The show plays October 30, 31 and November 1. The first two versions with another company of musicians were created and performed with great success in Venice and Vienna.
Parasomnias, an opera-sketch by composer Dmitri Kourliandski and designer Vera Martynova, will be the season's first opera premiere on November 21 on the Small stage. It employs the chorus of the Stanislavsky Electrotheatre. The work is created around Stanislav Lvovsky's Soviet Drinking Songs. The piece bears all the signs of a musical - number structure, musical-dramatic episodes, and choreography - but it is not a musical. It uses experimental electronics similar to club culture, and songs that, following Lvovsky's expressive texts, bear direct and indirect allusions to the Soviet song tradition.
The Tao Gardener joins the repertory in the fall. This Golden Ass project by Maria Menshenina, her directorial debut, is a total theatre performance that will unfold throughout the season.
The support of directorial debuts on the Small stage, which opened in the fall of 2016, is one of the most important vectors of the theatre's activity. It now constitutes a full-fledged playbill of 16 performances. What is unique about the Electrotheatre's support of debuts is the consistency with which the theatre allows young directors to realize their ideas and projects, and also the fundamental freedom of choice given to the directors. We ensure that each debutante is given the ability to preserve and develop their own individuality.
Three debut productions will premiere in 2019, bringing to an end the Golden Ass project:
Hippolytus, directed by Alexei Kovalchuk;
A Cat on a Hot Tin Roof, after Tennessee Williams, directed by Polina Fractall;
The Flood, after a play by the Presnyakov brothers, direted by Andrei Smirennov
Two premieres will take place next spring - Alexander Ostrovsky's Talents and Admirers, directed by Olga Velikanova, and Jean Genet's The Servants, directed by Vladimir Korenev.
The summer of 2019 will bring the premiere of a new production by director and composer Vladimir Rannev. Now known under a working title of Geometry, it will be created in tandem with designer Marina Alexeeva and choreographer Anna Abalikhina. It will play outdoors in the Theatre Yard.
The theatre's big main stage premiere will be Pinocchio, a large-scale project by Boris Yukhananov based on a play by Andrei Vishnevsky, in which almost the entire company will be engaged. Five parts of the theatrical blockbuster - "Forest," "Theatre," "City," "Fairy," and "Stradur" - will be shown in June and July 2019.
Boris Yukhananov on Pinocchio:
I am creating this production in tandem with Yuri Kharikov. Ours is a genuine dialogue that is both beautifully and complex. Also working with me are my usual team of costume designer Anastasia Nefyodova, composer Dmitri Kourliandski, and choreographer Andrei Kuznetsov-Vecheslov.
This will be a big, significant project for the Stanislavsky Electrotheatre. It will engage almost the entire company. The role of Pinocchio will be played by two wonderful young actresses: Svetlana Naidyonova and Maria Belyaeva.
The Stanislavsky Electrotheatre will tour to St. Petersburg in September 2018 for the Alexandrinsky festival, where it will perform Galileo. Opera for Violin and Scientist, created by Boris Yukhananov and five composers (nominated for a Golden Mask award in 2018). There will also be video screenings of the Drillalians opera series, created by Boris Yukhananov and six composers (nominated for a Golden Mask award in 2016), as well as meetings with the artists who created the operas. In October Vladimir Rannev will show his opera Prose (winner of the 2018 Casta Diva award) at the Golden Mask in St. Petersburg festival.
All the stages of the Stanislavsky Electrotheatre will be busy throughout the new season. This includes the Electrozone, which offers lectures, film screenings, meetings, and concerts in the foyer.
The Stanislavsky Electroheatre continues its development as a cross-disciplinary center for contemporary culture with a focus on drama and new academic music. The strategy of the Electrotheatre combines two vectors: a democratic approach and a complex, high quality theatrical product.